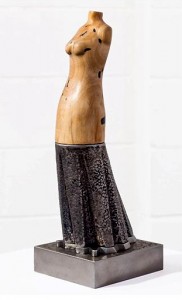 The stimulus for the small scale sculpture, drawing and print in this exhibition came from a range of sources including the Petersfield Museum costume collection, formerly part of the theatrical wardrobe at Bedales School, as well as costume and artifacts from the Victoria & Albert Museum and the dress and grubby habits of intimates and passersby.
A narrative is developed via the notion of the fig leaf as 'first' clothing which then flits through the Garden of Eden, viewing the subsequent fall from grace, and arrives at modern garb via a series of highly worked metal dress sculptures and complex coloured drawings and digital prints.
Along the way the inequalities of gender politics gain a male perspective.